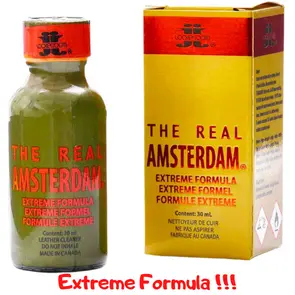 Excl. BTW:

€7,40

Model:

amsterdam-the-real-30ml-extreme-JJ

Merk:
Omschrijving
Amsterdam The Real - 30ml
LOCKERROOM (JJ)
EXTREME FORMULA
Terug van weg geweest! Amsterdam "The Real" OLD FORMULA.
Terug naar die goede oude tijd toen de Poppers van Lockerroom héél sterk waren.
Omdat de vraag zo gigantisch hoog was, konden ze niet anders dan de productie hervatten.
Deze Extreme Formula is veel sterker dan de versie op Hexyl basis.
Deze fles geeft jou het warme gevoel dat de Stad Amsterdam ook geeft. Niks is te gek!
The Real Amsterdam is altijd een absolute bestseller geweest!
Alleen te krijgen in de grote voordeelfles van 30ml.
Fabrikant: Lockerroom Canada
Inhoud: 30ML
Werkzame stoffen:
Reaction mass of (1-pentanol, 2-methyl-1-butanol, 2-methylbutyl nitrite,Pentyl Nitrite.
LET OP !! : Dit product niet inslikken
LET OP !! : niet gebruiken i.c.m. Kamagra / Viagra en andere erectie middelen
LET OP !! : Vloeistof op de huid geeft brandwonden
Beoordelingen (1)
Beoordeel
Note: HTML-code wordt niet vertaald!

Verder