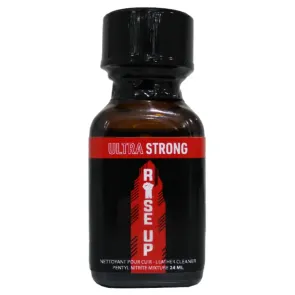 Excl. BTW:

€6,57

Model:

rise-up-ultra-strong-24ml

Merk:
Omschrijving
Rise Up Ultra Strong- 24ml

Rise Up Ultra Strong in de vernieuwde ovale fles van 24ml.
Rise Up behoort tot de populairste Poppers in Europa.
Deze ultra strong versie is uitgebracht in een nieuwe vierkante fles met een
nog sterkere werking dan zijn Tall broertje.

Fabrikant: Dragon

Inhoud: 24ML

Werkzame stoffen:
pentyl nitrite - CAS 463-04-7 EC N°: 207-332-7 (70%)
w/w Reaction Mass of 2-Methylbutan-1-OL And Pentan-1-OL
EC N°: 903-139-3 (30%)

LET OP !! : Dit product niet inslikken
LET OP !! : niet gebruiken i.c.m. Kamagra / Viagra en andere erectie middelen
LET OP !! : Vloeistof op de huid geeft brandwonden
Beoordelingen (0)
Beoordeel
Note: HTML-code wordt niet vertaald!

Verder